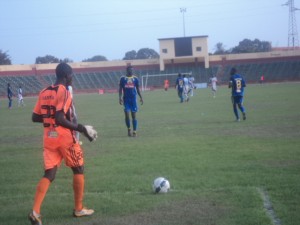 The national football championship of Guinea known as Ligue 1 Rio Tinto 2013 continues its merry way. At the end of the eighth day, six matches were vying for fortunes. A total of three wins and two draw for only ten goals. Provisional classification, Satellite FC of Conakry now leads the dance in front of the champion, AC Horoya, yet so far the only master on board, but with a game in hand, it was found.
This Sunday, the Satellite FC atomized the mythical FC Hafia, yet triple champion of Africa (5 goals to 1). This score is the heaviest since the start of the Ligue 1. The red lantern high two points in eight outputs has still managed to score its first goal of the year.
in  Labe, a town of 450 kilometers from Conakry, the Fello Stars was forced to share points at home with the Industrial Club of Kamsar (CIK) (0-0), while Dubréka, a town 50 kilometers from Conakry, AS Tabounsou was easily disposed of FC Sequence Dixinn, yet consecutive triple winner of the domestic cup of football in recent years (2 goals to 1).
Previously, Horoya Athletic Club, hitherto championship leader, realized the goalless draw before Santoba FC (0-0). Same score between the Ashanti Golden Boys of Siguiri and AS Bate Nafadji (0-0).
The big surprise of the day was the rise of the AS Kaloum, which played second fiddle to the beginning of the season, thanks to its small victory but valuable in the derby which opposed the vice-champion Atletico Coléah (1 – 0), which undergoes downward spiral this season.
The kickoff of this match was given by the Cameroon star Samuel Eto'o visiting Conakry.
Ligue 1: knockouts
Horoya AC- Santoba FC 0-0
ASKaloum- Coléah Atletico 1-0
SAG Siguiri- NafadjiBATE 0-0
Satellite FC-Hafia FC 5-1
Fello Stars -CIK 0-0
AS Tabounsou -Sequence FC 2-1
Overall standings
1 – Satellite CF 18 points
2-AC Horoya 15 points (-1)
3 – Ashanti Siguiri 13 points (-1)
3 – AS Kaloum 13 points
5 – CIK 11 points
5-ASA Bate 11 points (-1)
5 – 11 points Fello Stars
8 – AS Tabounsou 10 points (-1)
9 – Santoba FC 7 points (-1)
10 – Athlético Coléah of 5 points (-1)
11 – FC Sequence 3 points
12 – Hafia FC 2 points
NB: Three matches were postponed by the Guinean Football Federation to another date due to the participation of Horoya AC and FC Sequence African football competitions.
BAH ABDOULAYE