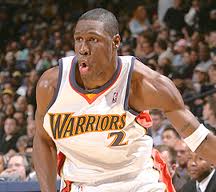 Paul Jones and Sherman Hamilton attempt a serious NBA discussion at Raptors vs. Cavaliers game, as Mickael Pietrus puts on a hilarious dance performance in the background.
Mickaël Piétrus is a French professional basketball player who plays for the Toronto Raptors. He is originally from Guadeloupe.
Mickael Pietrus isn't great at playing basketball, but he is pretty stellar at clowning around pre-game.
Watch here as he makes it incredibly difficult for NBA TV commentators Paul Jones and Sherman Hamilton to analyze basketball!
[youtube]http://www.youtube.com/watch?v=xKbEwB3dfTI&feature=player_detailpage[/youtube]