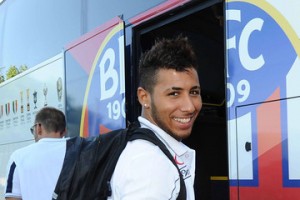 The former coach of Tunisia, Trabelsi Samy has not given the choice of Saphir Taïder in favor of Algeria. The technician was amazed at the speed with which FIFA has handled the issue of the qualification of Algeria. According to Trabelsi, Taïder have agreed with him to sign for Tunisia.
"I wonder how Algeria could have Taïder and qualify quickly, while I talked to him and he agreed to play for the benefit of Tunisia. This is a good player who will make a huge service to Algeria, "said the Tunisian.
having become a Fennec since Friday, Taïder always keeps Tunisia in his heart.
"I tell them that I love both countries. I chose Algeria from the sporting challenge, "he said on the site lebuteur.com. His brother Nabil preferred to defend the colors of Tunisia.
Read also: 
http://en.africatopsports.com/2013/02/15/tunisia-nabil-maaloul-is-the-new-coach-of-the-carthage-eagles/