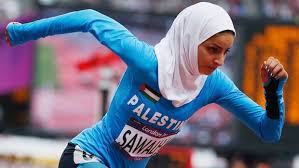 Gaza's third international marathon has been cancelled after the ruling Hamas movement refused to allow women to run, the United Nations Relief and Works Agency (UNRWA) for Palestinian refugees said on Tuesday.
Agency officials said more than 800 people, nearly half of them women, had signed up to participate in this year's race, which runs the entire length of the coastal territory and was to have taken place on April 10.
"UNRWA regrets to announce that it has had to cancel the third UNRWA marathon," it said. "This disappointing decision follows discussions with the authorities in Gaza who have insisted that no women should participate."
Agency officials said 807 people had entered this year's race — 551 locals and 256 international runners. Of that number, 385 are female — 266 from Gaza and 119 from overseas.
Another 1,600 girls and boys were to have joined the race.
Agency spokesman Adnan Abu Hasna said the decision was taken after the ruling Islamist movement refused to back down over the issue of women and men running together. "Hamas refused to let women participate in this very important marathon. They told us about this condition several days ago and we went into long negotiations but we failed," he said.
"They pushed us to cancel the marathon and I'm very sorry because it is a very important event for Palestinian refugees."
Two international women runners participated in the first Gaza marathon in 2011, alongside hundreds of women and schoolgirls who joined the relay race or walked part of it, with more joining last year.
"Hamas claims that women have never been allowed to run, which is not true, then they decided that only local women could run. Then they decided not to let any women participate," a diplomatic source in Gaza said.
A senior Hamas official confirmed the ban on women runners but expressed regret that the agency had cancelled the event. "We regret this decision to cancel the marathon but we don't want men and women running together," Hamas cabinet secretary Abdessalam Siyyam said.
"We did not tell the UNRWA to cancel the marathon and we haven't prevented it, but we laid down some conditions: we don't want women and men mixing in the same place," he said, citing Islamic law and traditions.
"We don't want women running uncovered," he said, noting that the ban was for female runners aged 16 and over.
The agency said it was working on an alternative programme of events for those who had signed up for the race, which would have seen entrants running either the full 42km marathon, the half-marathon or a 10km dash.
"The UNRWA sincerely regrets the inconvenience this causes those who planned to participate in the marathon," the agency said.
Source: Guardian
Read also:
http://en.africatopsports.com/2013/03/01/athletics-jerusalem-marathon-won-by-ethiopian/