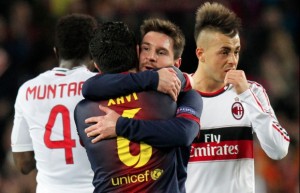 Author of his 16th doubled in Champions League on Tuesday in the second round knockouts against AC Milan, Lionel Messi guided Barca to the quarterfinals (4-0).
The Catalan striker has deleted a leg crossed in anonymity and found the efficiency that he lacked this season on the European scene. For his part, El Sharaawy could not save Milan from the wreck.
As it becomes a customary at the end of the game, the players shake hands and if affinities, exchange their jerseys. The scene has become commonplace in the football landscape. At the end of the Milan-Barcelona, Leo Messi blew a nice wind to El Shaarawy who wanted his jersey.
Check out the video!
[youtube]http://www.youtube.com/watch?feature=player_embedded&v=PfVaWivllVM[/youtube]