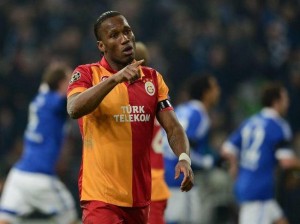 The Galatasaray striker, Didier Drogba has expressed his joy on Canal + to play again in the Champions League.
The Ivory Coast international is always exciting to hear the music of the competition.
"The experience here is unique, I've never seen it. I feel pressure because I came here with a statute. Every morning when I wake up I have to prove on the field that I am still on size. It is a great pleasure for me to see the Champions League and hear this music humming in the early game. We are eager to taste again the joys of victory in the Champions League, "said Drogba on Canal +.
Galatasaray after qualifying for the quarterfinals of the Champions League, Drogba had confided his desire to touch the cup with the big ears.
"It's the dreaming of this C1 which allowed me to win it with Chelsea last year. Win it once is not enough. Once you've tasted one wants to touch it again. Now, it is still far away. We try to do our best in the quarterfinals, "he declared.
His team plays in the next game against Real Madrid.