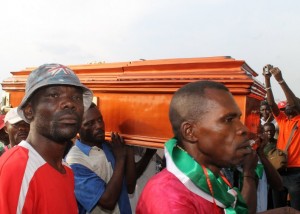 Africa Top Sports had broken the sad news to you.
Three players of Daring Club Motema Pembe (DCMP RD Congo) died, Thursday, March 28 in the evening in a traffic accident in the town of Limete in Kinshasa.
Their bodies from the mortuary are exposed at the Stade des Martyrs in Kinshasa since Wednesday. Difficult to console the bereaved families and relatives of the deceased.
The burial of the bodies was effective on Thursday. Many supporters and club officials made a last tribute to the international goalkeeper, Guelor Dibulana, Hugues Muyenge and Mozart Mwanza.
Africa Top Sports offers images of the ceremony of exhibition of the bodies.