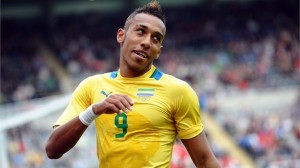 Received on the Radio show Foot Internationale on Rfi (Radio France Internationale) for receiving the award Marc Vivien Foe, rewarding the "best African player of the year in League 1," Pierre-Emerick Aubameyang said never have regretted his choice to play for Gabon, a country of his father. Despite other possible options.
"Gabon has been a choice of heart," said the striker of Saint-Etienne, who remembers the wonderful memories of his first Afcon, "It will remain a beautiful memory of my career. Play Afcon, it's beautiful, but playing at home is even more beautiful. "
Aubameyang could play particularly in France but also in Spain, the country of his mother. "I could have chosen Spain because my mother is from Spain," he has said.