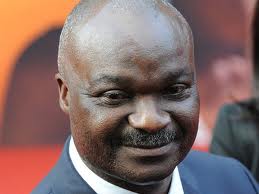 The statements of Roger Milla in Le Messenger on a possible European coach to take the reins of the selection of the Indomitable Lions of Cameroon have not left indifferent the football world.
Pierre Lechantre does not understand Roger Milla, the former international of the Indomitable Lions of Cameroon:
"Milla's bloody; he does not really tend to think about what he said. But there it is serious because he openly calls for violence, while showing a true racism ", accusing the French technician in Jeune Afrique.
Ousted at the head Lions of Cameroon, Denis Lavagne seems to know the ambassador of Cameroon: "he often slips. This time, he went even further, and it's heartbreaking. One may wonder if he is not a little xenophobic or racist … But his interest in it is that the selection does not get results, take up the presidency of the federation to appoint a coach to be under his influence. "
In view of the coach of Kenya, Adel Amrouche, Roger Milla is in the process of losing his consideration: "He loses credibility, judges Adel Amrouche, the Algerian coach of Kenya. He was a great player, and when you get older, you're supposed to be mature. It is just the opposite. A coach is a citizen of the world. Call to violence and release racist statements, it is simply unacceptable. "
The former player of Canon Yaoundé,  simply missed the opportunity to shut up according to his compatriot Romain Billonghad who remoted away the thesis of racism. "I think Milla has protectionist reaction, he prefers to be given the chance to the Cameroonian coaches or to maintain Akono. But he went too far. All those who have the skills to help the Cameroonian soccer are welcome. "
This statement would have exceeded the football frame. Pierre Lechantre wants the position of the presidency.