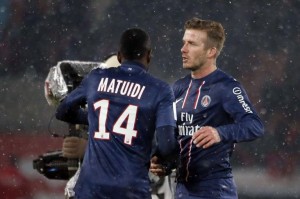 By retiring at the end of the 37th and penultimate day against Brest, David Beckham cried like a madeleine.
The emotion had invaded all the Parc des Princes. In the locker room, players keep good memories of the past 4 months with the Spice Boy. The Franco-Angolan Blaise Matuidi unable to restrain himself. He paid tribute to the former England international.
"He is an incredible guy. I cannot say anything bad about him. Above all, he is a great footballer who has had a crazy career. All I can say is thank you David. Thank you for everything you have done, not only for us or PSG, but the world of football. I can only wish him the same success for the future, but above all I am happy to have played and trained beside him. For me, it was really an honor".