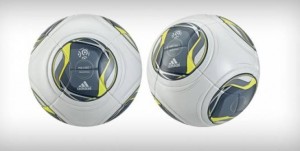 As soon as the curtain fell on the 2012-2013 season, Adidas unveiled on Monday, the ball of the 2013-2014 season of the French Ligue 1.
"The ball represents the passage of the Ligue1 in a new era with the modernization of stadiums for Euro 2016. We can guess on the face of the ball a stadium seen from above inspired by the design of the new stadium, "said the statement from the firm.
The new ball will go on sale on June 10. It was not until August 3 for its official inauguration. For this purpose, PSG, France Champion and the winner of the Coupe de France (Bordeaux and Evian TG) will be in Libreville (Gabon) for the Champions Trophy.