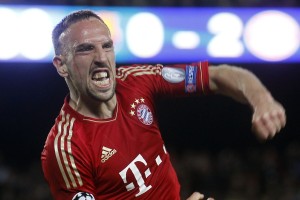 Usual protocol now for football matches. The stars come on the lawn with small children from the training center or club subscribers. Last week, Franck Ribery narrowly avoided being the laughingstock of the web. But it did not escape the cameras.
At the Jubilee of Mark Van Bommel (former of Bayern Munich, Barcelona and Milan), the French International makes an unusual change in the tunnel with one of his partners, including Holger Badstuber. His child was as tall as him and could create a situation not very comfortable.
Fortunately Badstuber was prompt to the demand of Ribery.
[youtube]http://youtu.be/Piayytzio7k[/youtube]