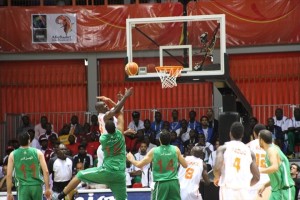 For its first outing in "its" Afrobasket, Côte d'Ivoire defeated Algeria, 64-47, in the second match of Group A.
Well applied with eight turnovers throughout the game, the Elephants have raced ahead when they won 30-21 (16-8 and 14-13).
The Five Algerian sounds the charge in the third quarter time where it dominates 15-17 (45-38). It took the fireworks of Mamadou Lamizana (13 points) and Stephane Konate author of a Dual (11 points, 10 rebounds) to reframe the debate in the last quarter time to ensure the victory of the host country before its audience.
A little earlier, the first match of the group A between Egypt and Senegal resulted in a victory of the Lions of Senegal. The second day of the pool will be the derbies in West Africa between Elephants and Lions and in the Maghreb between Algeria and Egypt. Those meetings will be played on Thursday, August 22.