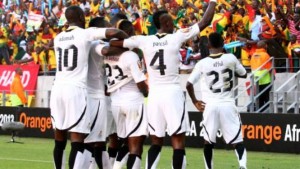 Africatopsports can comfortably confirm that a high profile international friendly between the Black Stars of Ghana and 2014 World cup host Brazil has been cancelled. The two teams were scheduled to play an international friendly on October 15th as both teams prepare for the World cup but it has been cancelled because the game was scheduled to be played in China now clashes with the first-leg of the World cup play-offs.
The timing will not favour the Stars because they will be preparing to face their opposing team. The conditional agreement means the Black Stars pull out without having to pay any damages to the Brazilians. The Stars met Brazil in the second round of the 2006 German World cup where Brazil scored Ghana 3-0.
Their second meeting came a year later in Sweden when Vagner Love's first-half goal helped the South Americans to the victory in Stockholm. Brazil beat Ghana 1-0 in their last meeting two years ago at Fulham's Craven Cottage in London.