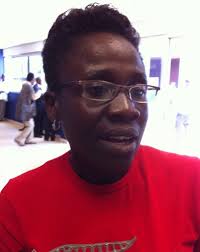 One-time best referee of Ghana's top flight league Mercy Tagoe has now stepped into coaching and  is now the Assistant Coach of Premier League side Amidaus Professionals.
Mercy is a former footballer and who  later became referee and retired three seasons ago, Mercy Tagoe has stepped into coaching following her coaching course at the Ghanaman Soccer Centre of Excellence-Prampram last year.  She currently holds Licenses C and B in coaching and now awaits License A.
In an interview with Ghanasportsonline.com, Coach Tagoe tells us that taking the job of Amidaus Professionals comes with a challenge but with hard work, dedication and determination, she is prepared to achieve in the near future. "I'm into this because of the love of the game," she says. "My ambition is to coach one of the women's national teams in the country." She believes that coming to Tema-based Amidaus will prepare her for the future and having known club owner Gedo Mohammed through the game, she feels Amidaus was the right club for her for now.
"Apart from being a sports woman, I'm a family mother and feel very happy to coach a side I am comfortable with. I am loved by all the management of the club, the technical handlers and the playing body. This is also a challenge and I am targeting Amidaus to a Top Four finish at the end of the season," she adds.