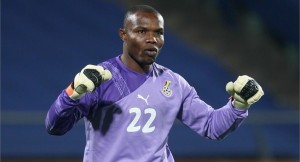 Goalkeeper Razak Braimah will regret the Black Stars friendly game against Japan
as his questionable performance rules him out of the crucial game between Ghana and Egypt. The former Nania FC goallie will have to go to his drawing board and prepare for next Black Stars appearance.
Meanwhile Richard Kingson who was the first choice goallie for the Black Stars in the 2006 and 2010 World cup will hope to retain his number one position in the Black Stars camp. As first-choice goalkeeper and team captain he was instrumental in leading Ghana to the final of the 2010 African cup of Nations Finals , and was again selected for the all-star team along with Egypt goalkeeper 
Essam El-Hadary
.
In the 2010 World cup, he was voted Turkish Airlines Top of the Match in the game against USA after making several saves in the 2–1 extra time victory. Kingson has not been in the Black Stars camp since 2010 World cup and his return will be a big boost to the Black Stars as they prepare to face the North African giants in the World cup play-offs in Kumasi.
The three goalkeepers for the game against Egypt are Richard Kingson, Fatau Dauda and Adam Kwarasey.
See all squad here
.