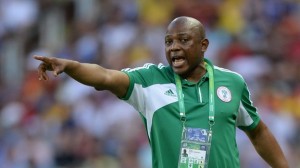 The African champion coach 2013 of Nigeria took a short break to the United States in order to relax a little bit with his family.
The Super Eagles coach did not go for the break without accomplishing his duty. He did not especially forget to name his 23 players who happened to get rid of Malawi in their final group game.
He is said to be back this week since the he will have to travel with his troupe on October 11 to Addis Ababa to face the Walia Antelopes of Ethipia two days later as part of the 2014 World Cup playoffs.