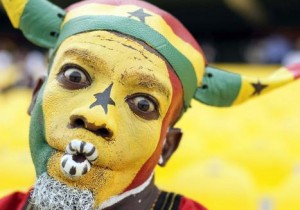 The joy that accompanied Ghana's qualification for the 2014 World Cup in Brazil is yet to die down, while most fans are dreaming of going to Brazil to be part of the fiesta next.
But hold it! Unless one has already saved or started saving going to Brazil will be just a dream as the cost involved certainly is above the means of the average Ghanaian football fan, according to Graphic Sports investigation.
Averagely, a round trip to Brazil next year which takes care of a return ticket, accommodation, feeding and tickets for the various matches will cost GH¢27,000 or $12,000. This does not include the internal transportation and other miscellaneous expenses.
Of the amount, the cost of an economy class air ticket currently ranges between $2,529 and $3,009, with the cedi equivalent being GH¢6,770.25 (at the exchange rate of $1 to GH¢2.25).
A cheap hotel rate currently stands between £41.14 and £62.03, while the match tickets, as released by FIFA in the advance ticket sales, range from $470 to $1,250 for some number of matches.
Category One is the most expensive which costs between $700 (for four- match tickets) to $1,250 (for six-match tickets), Category Two is the second most expensive ($540 to $705 for four- match tickets) with Category Three being the third most expensive (between $380 and $635 for four-match tickets).
The most affordable will be for Brazilian citizens and the disabled.
With Ghana yet to know which teams they play or which group and/or city they will be based as the draw will be held on December 6, fans who plan to attend the competition will have to prepare adequately as it is unclear if match tickets will give them free access to buses and trains as was done at Germany 2006.
However, considering the cost involved and, perhaps, the time to raise that money, most fans may have to abandon their plans of travelling to Brazil and stay back home and be part of the huge television fans who will create their own euphoria at the various giant screen stands which will be mounted around the country.
If a fan insists on going, then as it happened in Germany and South Africa, they may join the television watching party at the various fan zones to be created around the designated stadia during the tournament.
Source: Ghanasoccernet.com