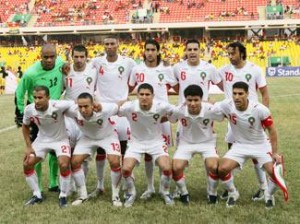 The 23 players selected by the Moroccan coach for CHAN 2014 are known. After unveiling a pre-selection, Coach Hassan Benabicha unveiled his final list.
The competition will be held in South Africa from January 11 to February 1, 2014.
Here are the 23 players selected:
Goalkeepers: Nadir Lamyaghri (WAC), Mohamed El Youssfi (MAT), Khalid El Askri (Raja).
Defenders: Adil Sasaa (DHJ), Zakaria El Hashimi (Raja), Mohamed Aberhoun (MAT), Mohamed Saidi (WAC), Mohamed Oulhaj (Raja), Ahmed Chagou (DHJ), Adil Karrouchy (Raja).
Midfielders: Anas Asbahi (WAC), Issam Erraki (Raja), Said Fattah (WAC), Abderrahim Achchakir (AS FAR) Mohsine Moutaouali (Raja), Walid Karti (WAC), Abdessamad El Mbarki (CRA), Zyed Kerrouch (MAT ), Rafik Abdessamad (OCS).
Forwards: Zakaria Hadraf (DHJ) Mouhssine Iajour (Raja), Brahim El Bahri (FUS) Abdelkabir El Ouady (WAF).