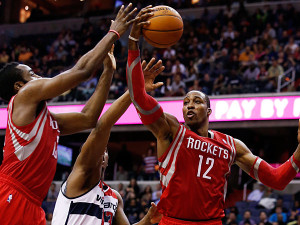 Kevin Seraphin has delivered "a sensational game" last night at the Verizon Center compliments the Rockets center Dwight Howard. With low playing time this season (9 minute average in 24 games), the French interior took advantage on the fourth foul of Marcin Gortat to put madness in the match that pitted Washington to Houston.
Led by 25 points in the third, the Wizards have recovered before doubling Texans following a 20-3. A recovery deserved through a "great job both in attack and defense" by Seraphin as analyzed by D12 admiring the attitude displayed by his opponent. "On every possession he played as a starved and he did a great job in front of me. His return has changed the game," Howard said in an interview with BasketUSA.
" This is what is expected from a player off the bench, continues the Rocketman author of 23 points and 7 rebounds. He was ready tonight. Many players spend their time complaining when they do not play but Kevin was very positive throughout, applauding teammates and laughing with them, giving them energy. With an attitude like that, we can succeed in this league …"
Little used by Randy Wittaman, Kevin Srephin has cracked 18 points in 8/13 shooting, 5 rebounds , 1 assist and 1 cons in 22 minutes. However, this did not prevent Washington, comfortable in their room from bowing 104-114.
The highlight of Kevin Seraphin
[youtube]http://www.youtube.com/watch?v=ehfFGUY6xbA#t=40[/youtube]