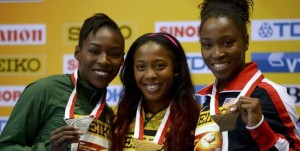 This is what is called being a perfectionist. As Côte d'Ivoire and all of Africa were struggling to hide their joy Sunday after the 60 m race at the world championships in Poland in room, Murielle Ahouré enjoys it very little. The vice world champion believes she was not up to par.
"The great sportswoman knows how to challenge. Our champion believes she has not been up in the final. Congratulations Ahouré ", can be read in a tweet of Alain Lobognon, Ivorian Minister of Sports after the race. Ahouré must surely be frustrated as she passes so close. Blame on Shelly Ann Fraser-Pryce. The Jamaican has yet flown over the race while the Ivorian impressed during qualifying (fastest time series and semi-finals).
Murielle Ahouré can get consoled by her best performance of the season on the distance (7s01).