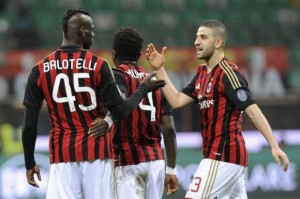 AC Milan beat Livorno on their lawn (3-0) for the 34th day of the Italian league on Saturday. The Rossoneri have not missed the opportunity to snatch their fifth consecutive success in Serie A.
Symbols of excellent form for the Lombard club, Mario Balotelli and Adel Taarabt have both scored. The Italo-Ghanaian striker showed the way by putting in an unstoppable header.
Midfielder Adel Taarabt of Morocco doubled the lead on an individual achievement.
This great success was then completed by Giampaolo Pazzini.