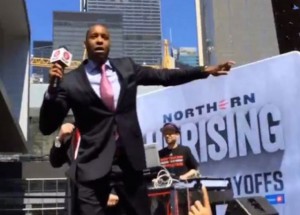 Before the first game of Toronto in their series of playoffs which oppose them to the Nets, their General Manager Masai Ujiri put himself in the shoes of a mob orator at the entrance to the Air Canada Centre.
Carried away by the euphoria, the GM released an unfortunate "Fuck Brooklyn." He could not get away with that as he caught the attention of Adam Silver.
Despite his apology at the end of this game for the skid, Masai Ujiri cannot escape the traditional fines by the NBA.
The GM of the Toronto Raptors has been fined by the NBA. He will have to get out the checkbook to pay a fine of 25,000 dollars.