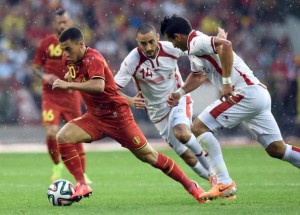 Belgium played on Saturday a final friendly before flying to Brazil. The Red Devils played in Brussels, Tunisia. A game that has been full of ups and downs. Especially the hail occurred before the break and that caused an interruption of more than 50 minutes of the game.
On the meeting, the Red Devils have struggled to develop their game against a Tunisian team that was also closing its series of friendly matches. Finally, the lightning comes from the wisp of Naples, Dries Mertens who scored the only goal of the game at the 89th minute.
Single false note, the ankle injury picked by Lukaku. This morning, Marc Wilmots released that it is not very serious, but the Chelsea striker should observe 3 to 4 days of rest.
In Brazil, Belgium will face in the first meeting Algeria.