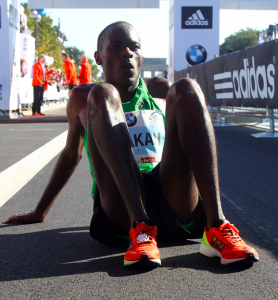 World marathon record holder, Patrick Makau, 27,  has rubbished reports linking him with a Nairobi clinic alleged to be supplying banned substances including blood booster EPO.
In a statement, Makau who was due to go for his own 2:03:38 world record in last Sunday's Frankfurt Marathon, stated the claims made by German journalist, Hajo Seppelt, in an interview with Athletics Illustrated website were mere fabrications.
"I personally have no knowledge if the story has any validity, but I know that nothing in it has anything to do with me. The story falsely associates me with a particular retail store (located in the Hilton Hotel, Nairobi) and claims that I am a direct customer.
"This is not correct. I have never been on the premises. The only thing in that shop that suggests that I have anything to do with the store is an old national newspaper clipping with my photo taped to the wall, together with many other clippings of other athletes' races," last year's Berlin Marathon champion said.
"Absolutely false is the claim that I patronized a clinic in Kapsabet. I have never even been in that town. For the sake of clarity, the shop located in the Hilton Hotel is, to the best of my knowledge, the only shop in Kenya which imported USN brand nutritional supplements (USN is a South African company with offices in Europe, including Germany and UK.).
"There have probably been hundreds of athletes that have bought USN products there. The USN product that I have used in the past is Recovery Max (a powered isotonic drink mix)," Makau added."From time-to-time I have asked someone going into Nairobi to buy a Recovery Max for me. Of course, before using USN product for the first time, my IAAF AR, Mr. Zane Branson, wrote to USN to confirm their products safety/compliance with WADA List.
"In addition, an email was also sent to the IAAF medical department asking if they have ever received any warnings and/or complaints about USN products and the answer came back negative, a simple 'No.'
"I find it surprising that this non-story has surfaced in English just a day before the BMW Frankfurt Marathon and I felt a need to make my case clear, especially as I have vast respect for the organizers, for BMW as a title sponsor, for Adidas, and all joggers, runners, spectators and volunteers and all individuals and institutions that have invested in the BMW Frankfurt Marathon.
"I am looking forward to a great event on a proven course and I will be racing with a clear conscience," Makau concluded.