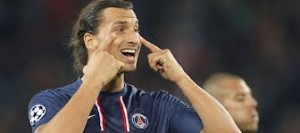 This is the star of PSG.
So, Zlatan Ibrahimovic has a tendency to adopt a behavior that displeases its partners.
The Swedish footballer would have taken a bad habit during training camp at Club Lodges, that he parks his car on cars park exclusively reserved for team staff.
The other players forced to park their vehicles in the parking of the main camp, have demonstrated their discontent.
A few days ago, after a request from the management, a security guard was charged to not let Zlatan Ibrahimovic parking is car on these privileged places.
According to Le Parisien, things are now back to normal and Zlatan Ibrahimovic vehicle will be stationed alongside those of its partners in the club.