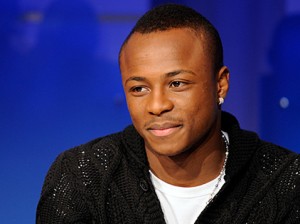 André Ayew was born on December 17, 1989, in Séclin in France. He is a Ghanaian international footballer evolving at the Olympic de Marseille as midfielder. He had the double Ghanaian and French nationality but has choosed to wear the Ghanaian jersey. He is the son of the famous player Abedi Pelé. He has got a brother called Jordan Ayew.
Career:
He was born with the football virus in his blood and got trained in the training center of Olympic de Marseille that the young player cleaved in 2005. In 2007, he signed his first professional contract with Olympic de Marseille. In August 2008, he was hired for a season game in FC Lorient.
In August 2009, Didier Deschamps and the Olympic de Marseille hired him to AC Arles-Avignon. He contributed a lot in the evolution of the Provençal club to League1.
National Selection:
In  August 2007, he was selected by the coach of Ghana, Claude Le Roy and entered at the end of the match against Senegal.
Palmares:
With Olympic de Marseille:
-2010 : Champion of France
-2011 : Winner of the League Cup
With Ghana:
-2009: winner of the Jenior African Cup of Nations
-2009: winner of the World Cup of 20 years old
-2010: finalist in the African Cup of Nations
[youtube]http://www.youtube.com/watch?v=lZBPoI-iWhg&feature=player_embedded[/youtube]
[youtube]http://www.youtube.com/watch?v=sgADHrXeQ94&feature=player_embedded[/youtube]