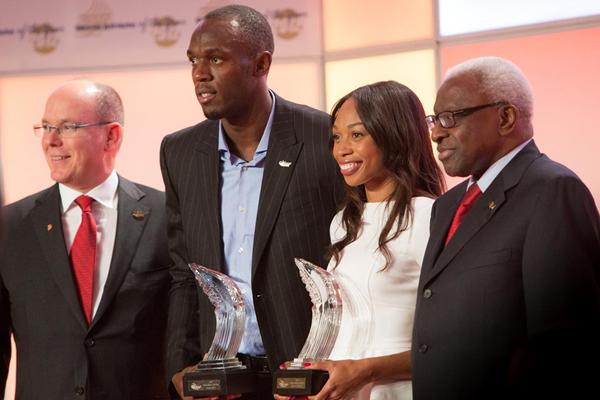 Usain Bolt has won the IAAF World Athlete of the Year award for the fourth time over United States hurdler Aries Merritt and Kenyan runner David Rudisha.
United States sprinter Allyson Felix won the women's World Athlete of the Year award. The other finalists were Valerie Adams and Jessica Ennis.
The awards were announced on the final day of the IAAF's 100th anniversary celebration.
Usain Bolt, 26, the World Athlete of the Year in 2008, 2009 and 2011, successfully defended both his 100m and 200m titles at the Olympic Games in London, clocking 9.63 and 19.32 respectively, both the fastest times in the World this year. He concluded his Olympic appearance by anchoring a Jamaican quartet to a 36.84 World record in the 4x100m Relay. He won six out of seven competitions in the 100m, and three of four in the 200m.
"This means a lot to me as this was one of my hardest years," said Bolt. "My coach doesn't want us to discuss injuries, so I didn't talk about it, so this means a lot."
Allyson Felix, 27, following World 200m titles in 2005, 2007 and 2009, won the Olympic 200m title in London and was part of the gold medal-winning 4x100m and 4x400m Relay teams to become the first woman since 1988 to win three gold medals at a single Olympic Games. The victorious 4x100m Relay quartet in London clocked a 40.82 World record. Her 21.69 victory in the 200m at the U.S. Olympic Trials was the fastest in the world this year and made Felix the fourth fastest woman in history.
"It is pretty much one of the coolest awards I've ever received," Felix said. "Winning it means you are at the top of your sport, which is something we all strive for. To finally reach the goal during the journey of a long career is very special."