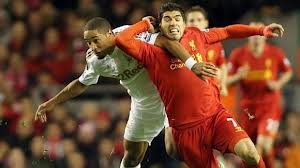 AS Swansea City prepare to welcome back some familiar faces. Michael Laudrup says he won't force Ashley Williams to offer a hand of friendship to Luis Suarez.
The return of Brendan Rodgers and Joe Allen to the Liberty Stadium tomorrow would ordinarily have been the day's big talking point, but the homecoming of two former favourites has been overshadowed by the row between Williams, 28, and the Liverpool stricker Suarez, 25 years old.
Williams new book, released this week, contained a chapter where the Swansea defender revealed he wanted to "knock out" Suarez when the pair played against each other for the first time last season.
But Swansea boss Laudrup was relaxed about comments when asked at his pre-game press conference at the Liberty yesterday. The Dane was smiling before the question had even been asked,"you're thinking about the book, right?" he said to one journalist.
Laudrup insisted he hadn't felt the need to speak to the defender about his comments or shaking Suarez's hand in the traditional pre-match ritual between the two sides.
"Fair play is important for me, but again if two persons do not want to shake hands then i don't know", he said.
"What is important for me is that I know I've got a player who, even if he plays against a player he doesn't like because of certain things, I'm 100% confident that he will do a great job on Sunday", he added.
Swansea beat a much-changed Liverpool side in the Capital One Cup last month but Laudrup is expecting a different challenge from a full-strength Liverpool at the Liberty.