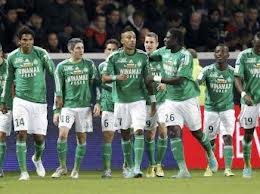 This seventh victory of the season in the league has temporarily placed the Greens lead the standings, 26 months after their last appearance at this level, September 25, 2010 after the 100th derby history won 1-0 against Lyon Gerland.
 "It's good for the club to be in front of the stage, but above all remain humble and work even more," said Fabien Lemoine, relayed by Pierre-Emerick Aubameyang.
Hamouma Romain, french midfilder, 21,  the hero after scoring the winning goal 10 minutes after its opening match in a meeting started on the bench, insisted that Saint-Etienne should "not be mistaken for objective, "even if it is good to show the team is present.
A consistency recent weeks adds another given the presence of Saint-Etienne in the top ten at the end of the last two seasons (10th and now seventh), which had not happened since 1981.
"My greatest satisfaction over the results of matches", said Bernard Caïazzo, Chairman of the Supervisory Board of the ASSE.
A group is born and, as pointed out Pierre-Emerick Aubameyang, Gabonese player, 23, "nobody is indispensable."
By December 22, Saint-Etienne will meet next Tuesday PSG  in the League Cup, before a trip to Ajaccio, then the derby against Lyon, a trip to Bordeaux, Lorient receiving and a trip to Marseille.
Many tests for a club that now appears in full resurrection.