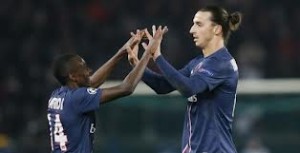 Author of a stunning start to the season, Blaise Matuidi, once again, has gratify the Parc des Princes a sparkling performance this Saturday.
After the match against Troyes (4-0), Zlatan Ibrahimovic praised the French midfielder Blaise Matuidi, 25 years old.
Swedish appeared in front of cameras while Blaise Matuidi was answering questions. He then took him by the shoulder, laughing, and said to him "Oh this is easy to answer reporters when you scored a goal. "
"He always does is work, It runs great, it retrieves balls and he is always there to help the team. Today, he scored and opened spaces for strickers. This is the type of player who is always all good. It is very important for the team even though he did not always credit it should have, ''said Ibra.
The two players parted in a smile … Zlatan thumb up to Matuidi.
Awaiting his return to the Cauldron Geoffroy-Guichard on Tuesday in the League Cup, the PSG midfielder prefers to enjoy this success.