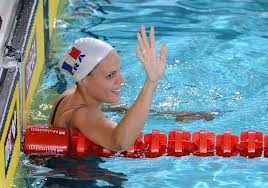 Laure Manaudou of CN Marseille pocketed gold medal of the Women's 100m backstroke on opening day of 2012 French Short Course Nationals on Thursday, November 15.
Manaudou crushed hopes of her opponents by capturing the title of the sprint event. She remained prominently ahead of her competitors from the start and continued her dominance throughout the race for gold medal.
She showed no leniency to her opponents in the 100m discipline and stepped on the victory stand for the crown by producing a time of 58.07 seconds.
Her title claiming effort remained 0.45 second faster from Alexianne Castel of Cercle Des Nageurs de Talence, who followed her on the medal rostrum for silver medal by touching the wall with an effort of 58.52 seconds.
Laure Manaudou was one of the stars of Europe Championships, maybe the biggest one.
Since the Compiègne meeting end of October, where she announced without having to express every  word that she was planning to bow at the conclusion of the Europe Championships in small pool, Laure Manaudou keeps alive the suspense about her  future.
"For the time being, I am not thinking about about it" she confesses last Wednesday during a press conference." I am concentrated on Europe Championships and on the mixed relay that I am going to play with Florent ( Manaudou, her youngest) and  Fred ( Bousquet her companion). It is a première for me, so I am anxious to make good impression."
The Olympic champion 2004 thinks that the debate around her retirement pollutes a bit all.
"It is sure that it pollutes because I only get questions about this. People start even forgetting the sportive results of some and others.
The harder is not for me but for my circle of family and friends.But all this teaches me not to say everytime what I want. For the time being, I just want to think only about Europe Championships and about the results am expecting to have."