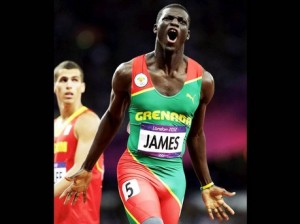 Kirani James, 20, Grenada's world and Olympic 400 metres champion, on Friday said that he would welcome the chance to pit himself against Usain Bolt should the Jamaican opt to step up to the one lap sprint.
If Bolt were to decide to compete at 400m, it would bring "renewed interest to the distance", James said during the International Amateur Athletics Federation (IAAF) centenary celebration party in Barcelona.
"It seems a natural move on his part (to step up to 400m) and it would attract attention to the distance," James, a 20-year-old University of Alabama student, said.
James said he also intended to run more often over 200m to improve his basic sprint speed but harboured no illusions about challengeing the supremacy of Bolt or fellow-Jamaican Yohan Blake.
He said, though, that he was in no hurry to wrest the 400 world record of 43.18sec from American Michael Johnson, who has been the fastest man in the world over the distance since 1999.
"It's not something I really think about," he admitted. "My goal in every big race is always to run faster. That way, I am building up to it little by little."
James' own personal best is the 43.94 he ran at the London Olympics this year.