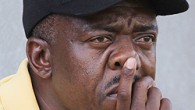 No reason for mistakes! Failure means uncapacity!
His departure has been expected !Rahman Gumbo is no more the coach of the Zimbabwean national team.
This man who has taken office to lead the Brave Warriors of Zimbabwe in March this year following the suspension of Norman Mapeza for his involvement in a match-fixing scam involving the national team playing unsanctioned games in eastern Asia has declared his resignation a month after his failure to lead his players to the 2013 Afcon in South Africa, the land of Nelson Mendela.
The resignation came after the football association's technical committee recommended the appointnment of a foreign coach after analysing Gumbo's report on why the national team failed to qualify for the continental football showcase early next year.
The Brave Warriors had been eliminated by Angola (3-1, 0-2) who where qualified thanks to their goals scored outsiders.
THE Zimbabwe Football Association (ZIFA) on Tuesday named Klaus Dieter Pagels as the new coach for the senior national team.
In a statement on Tuesday, ZIFA said: "We settled for the German coach, given the existing government-to-government cooperation which would see the Association engaging a highly qualified coach in the shortest possible timeframe".
"The Association will however continue on a hunt for a highly qualified coach who should take charge of the senior national men's future campaigns in the long term. A local coach with unquestionable potential and enthusiasm shall be recommended to work with Klaus Pagels as part of the Association's capacity building and succession plan."