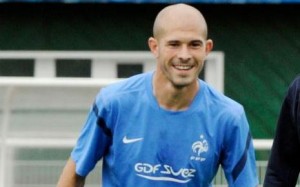 The Paris Saint-Germain captain is satisfied with his personal performance this season and is looking forward to repay the faith shown in him by the bosses.
The 29-year-old has been in phenomenal form for the Ligue 1 leaders this season and his impressive form at the club level has earned him international recognition as well. And the player himself feels that he has improved a lot this season and is proud of what he has achieved in short span of time.
While talking to reporters, Christophe Jallet said that he has worked really hard to be at this position and is looking forward to improve even further in his career, and win titles with Paris Saint-Germain.
The France international added that despite all the success and fame, he is not getting carried away and is looking forward to become a regular at international level.
"You should be proud of what you achieve, for sure, but perhaps I'll be a bit prouder of my own achievements once I've finished playing. At the moment it's not really sinking in. I'm trying to take things day by day."
Jallet has earned a huge amount of plaudits in recent months in the wake of some impressive performances for the Ile giants, and the player is of the view that hearing compliments is much better than taking criticism.
The former Lorient defender added that it is good to know that you are doing well at this level, and is looking forward to repay the faith shown in him by the bosses.
"A very good player" and "a pillar of the team: a senior player with a lot of charisma who is always ready to help his team-mates."
Paris Saint-Germain will take on AS Saint-Etienne in the quarter-finals of Coupe de la Ligue on Tuesday.
"It's easier to listen to compliments than it is to take criticism. It's obviously nice to hear. Afterwards, you try your best to return the favour."
Christophe Jallet's teammate, Salvatore Sirigu, has praised the 29-year-old in a recent interview with a magazine. The Italian shot-stopper said that Jallet is like a pillar of the team and he is always there to help out his teammates.