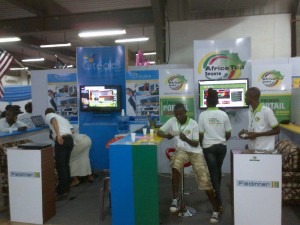 Today is a very important day for us as the english version of Africa Top Sports is online : www.en.africatopsports.com.
Thanks for welcoming us.
Also if you are in West Africa, you must have heard about the trade fair of Lomé. The event is celebrating its 10th year!
For us, this is the perfect moment to leave our office and come to meet you guys during this fair.
The feast opened on November 23 and is lasting until December 10.Do you know where it is taking place? Just come on the site of CETEF-LOME!
There, Africa Top Sports.com has got a stand. Now don't mind! Come and visit us, chat with us and vote for the 2012 Africa Top Sport Awards.
If you want to collaborate or publish on the website, this is the appropriate time to do it.
Africa Top Sport.com, the first website for African Sports has been launched in July 2012 in Togo during the Olympic Games of London. The editorial staff is based in Lomé and we had just launched Africa Top Sports in english, so come and get ready with us to support the African teams taking part in the coming Afcon.
Thank you for your confidence and faithfulness.


The staff of ATS (Africa Top Sports)