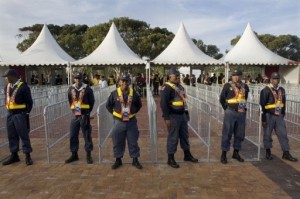 South Africa does not want to smudge its image. The country hosting the 29th African Cup of Nations decided to raise up the level of the participant security in Afcon 2013.
So the 16 nations that are going to be in South Africa for the competition are to be supervised "  24h/24". This is announced by the organization staff.
This decision came from the incident that occurred during the friendly match between the Bafana Bafana of South Africa and the Chipolopolo of Zambia November 14  in Johannesburg .
"After the event focusing the Zambians, the security will assured for all teams 24h/24", declared Maggie Sotyu, the vice minister of the police in front of the local press in Pretoria, "The buses transporting players will be always escorted by police".
Other things such as the glass bottles and cans will be forbidden on the stadium. Drinks are going to be sold in robbers.