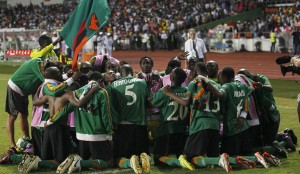 The Chipolopolo of Zambia are getting ready for the 2013 Afcon. They are going to play twice a friendly match with Saudi Arabia.
The first encounter will take place next Saturday whereas the second will be in three days later, that is on Tuesday, December 4.
The team had three weeks of training sessions.
This first Zambian gathering is taking only local players into account. "we are actually happy with the manners of the players. They are making proof of their determination to win. So these two matches should serve as reference to the technical staff", as stated by Erick Mwanza, in charge of communication at the Zambian Football Federation.
At the end of this encounter, Hervé Renard will have to announce the first temporary liste for Afcon 2013. Zambia is going to defend its title in group C with Nigeria, Burkina-faso and Ethiopia.