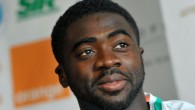 Here is the latest of the English press about Kolo Touré'affair.
A Zimbabwe woman has told how she got engaged to married £90,000-a-week Manchester City defender Kolo Toure after he told her he was a car salesman.
Model Kessel Kausiyo, 22, says she enjoyed a two-year tryst with the former Arsenal star who introduced himself as 'Francois'.
Toure lavished gifts on her and gave her money to send to her mum back in Zimbabwe.
Keeping up the charade, the Ivory Coast ace bought Kausiyo a £1,000 engagement ring – at the same time as he married his current wife, Awo, with whom he has two children.
During the time the two were seeing each other, Kausiyo says Toure refused to pose for pictures with her and would not introduce him to his family because of his strict Muslim heritage.
But she says her world came crashing down when one of her friends recognised him and told her to Google his name.
She was shocked to see Toure's wedding photos and learn that he had a wife.
She told the Sunday Mirror: "I'm devastated. On some of the wedding pictures he is crying but a few weeks before he was in my bed. Two or three weeks after the wedding, he was at mine. Around the time he got married he called and said he was back in Africa and had just sold two cars.
"I believed everything he said, I am hurt and confused by it all. Maybe he wanted me to be a second wife. I just don't know. Everything about his strange ¬behaviour now all makes sense."

She claims Toure approached her outside the Bijou nightclub in Manchester back in September 2010 before the pair swapped numbers.
He told her he was originally from Ghana, sold cars back in Africa before the pair began an on and off relationship until December that year.
By December, she says he had stopped calling before he rekindled the affair nine months later – arriving at her house with a gold watch and 18 carat diamond earrings.
Eventually, she got fed up with his behaviour and the pair broke off all ties two and half months ago – only for her to discover that he wasn't who he said he was.
However the defender of Manchester City declared knowing nothing about the story. He said: "I am not feeling concerned. The young model has really gone out with my elder brother. Maybe she has got shambles as we really look like each other. Moreover, I think that she is looking for money. But I am actually confident and relaxed!".