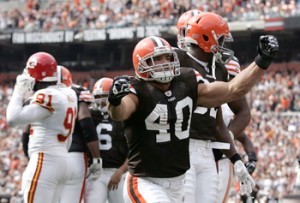 Life can be humbling for a former N.F.L. running back hoping to return to the league.
Last week, Ryan Torain a starter for the Washington Redskins in 2011 — was living in Chandler, Ariz., playing in a 7-on-7 football league and scouring the Internet on Sunday nights to see if any backs had gotten hurt. Gregg Lumpkin, who played in all 16 games for Tampa Bay last season, was doing his best to stay in shape while also pondering whether to accept a job offer in real estate in Atlanta.
Given those circumstances, it was hardly surprising that both players were ecstatic to be in the locker room at the Giants' training center Thursday, going through their first full workouts. The Giants signed Torain and Lumpkin on Tuesday after Andre Brown, the veteran backup to Ahmad Bradshaw, broke his leg in a victory over Green Bay.
Coach Tom Coughlin was noncommittal when asked how involved Torain or Lumpkin would be in the offense Monday night against Washington, but both players expressed confidence that they would be ready.
"It's definitely challenging, but there's nothing I would rather be doing right now," said Torain, who acknowledged that he found himself compulsively checking what injuries had cropped up around the league as he watched games each week.
"It's not that you wish anyone ill," he said. "But it's a rough business. I was always looking: Who needs a running back? What might be out there? I was just waiting for an opportunity."
Torain has battled injuries throughout his career but rushed for 742 yards and 4 touchdowns in 2010 with Washington. He played in eight games in 2011 but fell out of favor and was waived in December. He worked out for the Giants during their bye week earlier this month, then got a phone call Monday morning that the team wanted him to come back.
He flew from Arizona on Monday afternoon, landed around midnight and came to the center the next day. After a physical and another workout, he signed a contract Tuesday afternoon.
"I'm just 26," Torain said Thursday. "I still feel like I can be the kind of back I was."
At 28, Lumpkin has a less-impressive résumé — 124 career rushing yards — but is attractive to the Giants because of his blocking prowess and his special teams skills. Lumpkin had been actively looking for nonfootball jobs, he said, but was more than happy to put off an offer to join a mortgage company in favor of giving the N.F.L. another shot.
Once he went through the Tuesday workout and signed, Lumpkin immediately joined the classroom sessions that fullback Henri Hynoski has been holding to help the rookie running back David Wilson learn the team's pass-blocking sequences.
Lumpkin also said he was planning to reach out to D. J. Ware, a college teammate at Georgia who spent parts of five years with the Giants and now plays for Tampa Bay. "I'll pick his brain," Lumpkin said of learning the offense. "He can give me some pointers."
Lumpkin spent time on the kickoff return and punt return teams during Thursday's practice. Since Brown played on special teams in addition to backing up Bradshaw, that hole is also important for the Giants to fill.
"I've done special teams since I've been in the league, so I'm used to it," Lumpkin said. "That's where you have to make your money."
However the Giants fill Brown's role, it is difficult to imagine that his replacement will replicate his goal-line prowess. Brown had shown particular talent in that area, scoring 8 rushing touchdowns in 10 games this season, none longer than 2 yards.
Of course, Wilson will probably have a chance to carry the ball more, and Coughlin said expectations were high. "He's a first-round draft choice, a talented kid," Coughlin said. "Ratchet it up. He's ready to go."
Regardless of how well Wilson does, most N.F.L. teams operate with at least three running backs, so it figures that Torain or Lumpkin will get a tantalizing opportunity to restart his career. "We're all ready for it," Torain said. "We just want our chance again."