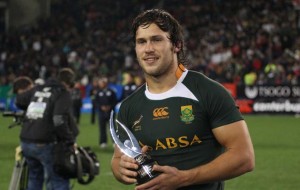 The South African Jan Serfontein is now at the global level of the Junior.
Serfontein has been the sacred best junior player of the year 2012 by the International Rugby Board (IRB).
It is the first time since 2001 for a South African to win this trophee. The 19 years old, Jan Serfontein is playing at the position of central three-third with the Blues Bulls in the Vodacom Cup.
This is his second global trophee of this year. In fact in July, the native of Port Elizabeth had won the title of the World champion of the lesser than 20 years old and has been appointed the best player of the Tournament.