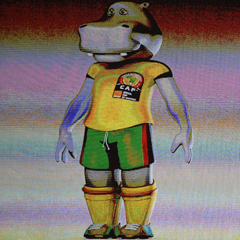 So has decided the South African Sport minister. The mascot of the 2013 Afcon will be that all sports in South Africa. "We are going to take this mascot to represent all sports", declared by Gert Oosthuizen on Tuesday during the prize-giving ceremony for the competition.
Announced on October 24 in Durban on the fringe of the drawing lots at the competition, Takouma represented an hippopotamus with a yellow jersey.
It has been drawn by a school boy from the primary school of Dikgorwaneng in the district of Pays arc-en-ciel. Then the Sport minister added "Takuma will be the mascot we are going to use during the coming years".
Shingo the other mascot that arrived at the second stand is going to be used during University championships whereas the third, Hagozonke will be used within the framework of the struggle against dopping in sport in South Africa.