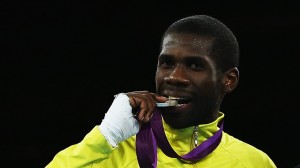 Anthony Obame was born on September 10, 1988 in Libreville from a family native of Oyem (northern Gabon).
He is a taekwondo practitioner who represented Gabon at the 2012 Summer Olympics in in the men's 80+ kg category.
Journey
He started Taekwondo at the of six when his father sent him into the club of the Gabonese Air Force. With his A Level degree in the pocket, he flied to France and to the resources center for sports performance of Toulouse. He also studied Sport management.
He had been aided by both the Gabonese and the French federation thanks to an agreement between the two structures. This Taekwondo practitioner  has become the first medalist of the Olympic Games of London.
"I am proud of this country that has expected and dreamt of a medal. It is extraordinary! What happened to Gabon".

Palmares
-January 2012: African champion of Taekwondo in Cairo
-2012: Siver medal at the Olympic Games of London
[youtube]http://www.youtube.com/watch?v=UyXdSqwoVBo&feature=player_embedded[/youtube]
[youtube]http://www.youtube.com/watch?feature=player_embedded&v=3b1cGdLkDAo[/youtube]
[youtube]http://www.youtube.com/watch?feature=player_embedded&v=pDcu3iB5fAg[/youtube]