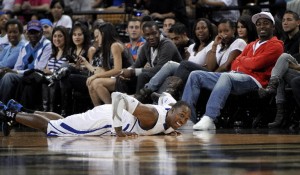 The Orlando Magic have changed greatly since they traded Dwight Howard last summer. Howard's free-throw struggles haven't changed at all, and that's just one way the Magic pulled a stunning upset in their reunion.
Arron Afflalo scored 30 points, Glen Davis added 23 points and 12 rebounds, and the Magic beat Howard in their first game against their longtime center, defeating the Los Angeles Lakers 113-103 on Sunday night.
Howard had 21 points and 15 rebounds against his former team, but the rebuilding Magic rallied impressively with a 40-point fourth quarter for just their fourth win in 14 games, snapping a three-game skid.
BOX SCORE: Lakers 113, Magic 103.
Orlando pulled the upset partly by intentionally fouling Howard, who went 9 for 21 at the line — including 7 for 14 in the fourth quarter. The Magic made their decisive 12-2 run while Howard wasn't helping the Lakers at the line in the fourth quarter, with Nelson and J.J. Redick hitting 3-pointers along the way.
Howard left the court after the game without shaking hands with the Magic.
"Let Dwight be Dwight. If he wants to walk off the court, it's cool," said Davis, who overlapped with Howard only last season in Orlando. "No hard feelings. He lost. I'd feel bad, too. I wouldn't want to shake nobody's hand. We weren't even really thinking about him. We just wanted to get this win. I didn't talk to him. I'm here to play basketball. I'm not here to be buddies."
Jameer Nelson had 19 points and 13 assists after nearly sitting out with tendinitis during the Magic's most impressive win under new coach Jacque Vaughn. Orlando also started a stretch of five road games in eight days with just its second road win all season.
Not much of the team Howard left is still standing in Orlando, which now has Vaughn, a new front-office staff and just five players left who played with Howard. The center acknowledged neither hard feelings nor wistfulness before the Magic's visit, only saying the experience would be a bit weird.
Afflalo, the former UCLA star who moved from Denver to Orlando as part of the trade that sent Howard to the Lakers, had his highest-scoring game in a Magic uniform.
"The way we lost the past three games, I'm sure our fans just wanted to see us win in general," Afflalo said. "But for us to kick-start this road trip by playing well, against the Lakers in particular, they should be proud of that. It's a huge confidence boost for us."
Kobe Bryant scored 34 points for the Lakers, who dropped to 3-4 under new coach Mike D'Antoni with another inconsistent performance featuring deficient defense. Metta World Peace scored 15 points, and Pau Gasol added 11 for the Lakers, who went back to poor form just two nights after a 122-point effort in a blowout win over Denver.
"Seems like we can't get out of our own way," D'Antoni said. "I think our problem is just not coming out with the intensity and the purpose that we need to have. … We're slow right now. Just athletically, we're struggling with young teams that run up and down."
Vaughn, who never coached Howard, said before the game that the Magic wouldn't hesitate to force the big man to beat them at the free-throw line in a close game. Howard, whose success rate has been hovering below 50 percent, missed seven of his first nine free throws against the Magic before finishing with more free-throw attempts than the entire Orlando roster, which went 19 for 20.
"That kind of got us out of our rhythm a little bit," said Antawn Jamison, who scored 10 points for Los Angeles. "But it's unexplainable … to play the way we did tonight after playing so well the other night."
Howard spent the past eight years as the face of the Orlando franchise since the Magic plucked him out of his Atlanta high school with the first pick in the 2004 draft. He made six All-Star teams and won the NBA's defensive player of the year award three times, leading the Magic to the 2009 NBA finals during five straight playoff appearances.
The Magic were very good with Howard as their centerpiece, but never won a title — and it all began to fall apart over the previous two seasons when he criticized the organization, flirted with numerous trades and eventually bumped heads with coach Stan Van Gundy, who announced Howard wanted him fired last April.
Howard missed the end of last season with a herniated disc in his back, and the Magic missed the playoffs for the first time since 2006. Their agonizingly protracted breakup finally happened in early August when the patient Lakers swung a four-team, 12-player trade for the center, giving up All-Star center Andrew Bynum in the deal.
The game also concludes a generous portion of the schedule for the Lakers, who played 12 of their first 17 games at home. Los Angeles plays nine of its next 12 on the road through Christmas, with no multigame homestands until the holiday week.