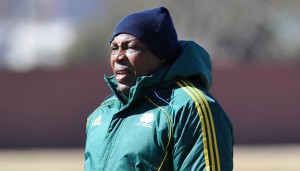 The South African National Under/17 team, Amajimbos have been eliminated from the African Youth Championships after going down 2-1 away to Ghana in the second leg of the final qualifying round for a 5-3 aggregate score.
Amajimbos travelled to Ghana for the second leg having lost 3-2 in the first leg played at Sinaba Stadium. The Ephraim 'Shakes' Mashaba coached-side which had chalked up some impressive away wins were hoping for a similar outcome but found the home side, buoyed by home support a different proposition all together.
The atmosphere at Essipong Stadium in Ghana was just too much for Amajimbos who fought gallantly but could not stop the home side from progressing through.
The hosts scored two first half goals, dashing any hopes Mashaba's side had of progressing through.
Bongani Khanyile scored the visitors' only goal in the second half but Ghana held on for a 2-1 home win and a 5-3 aggregate win.