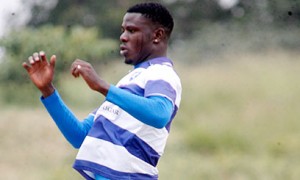 Kenya's AFC Leopards Chairman Alex Ole Magelo has insisted that their expelled winger Paul Were has a case to answer despite being pardoned by Football Kenya Federation (FKF) for his recent escapade.
Magelo said as a club, they were disappointed by were's behavior with the National soccer team Harambee Stars in Kampala,Uganda that did not give the club a good image.
"Were has been a naughty boy.He has been coming to our training when drunk.I was not amused when we heard what happened in Kampala.We are going to wait for the official report from Harambee Stars technical bench and weigh which action to take against him".
Speaking on phone, Magelo said the club has started the recruitment exercise  which he said  will be one of the best.'We are going to conduct one of the best recruitment and I can assure  you, we shall now clinch the League  title come next year. Remember, two years  ago, we finished fifth, now  we have finished third in  the just ending season , you can guess what we shall achieve  next season" said  a jovial Magelo.
The two players who were expelled last week for indiscipline at the team's Kampala Sports view might make a comeback to the team after the technical bench demanded their presence after sailing to the quarter finals of the Cecafa Challenge Cup.
Head coach James Nandwa has requested Football Kenya Federation (FKF) to facilitate the return of youngsters Paul Were and Kevin Omondi, who were expelled from the team's camp two days ago.