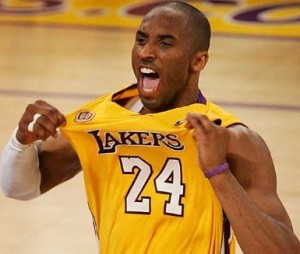 Kobe Bryant offered a stern warning toward his teammates if the losing continues.
"I will kick everybody's ass in this locker room," Bryant said following the Lakers' 113-103 loss Sunday to the Orlando Magic. That's the attitude you have to have."
Safe to say Bryant feels happy about the Lakers' current state of affairs. He directed most of his criticism toward Lakers forward Pau Gasol, who posted 11 points on only four of 11 shooting and seven rebounds. Bryant seems frustrated with how Gasol's adapted to a changed role. He also expressed little sympathy for Gasol being benched for the final 6:07.
"Put your big boy pants on," Bryant said. "Just adjust. You can't whine about it. You can't complain about it."
Bryant then went on a tirade on how his responsibilities have kicked up because of long-term injuries to point guards Steve Nash (fractured left leg) and Steve Blake (lower abdominal injury). Nash has missed the past 15 games, while Blake has Darius Morris has started at point guard for the past 10. Darius Morris has started at point guard while Chris Duhon has assumed a larger role off the bench. But Bryant has also taken a good share of ball handling duties.
Nash told this newspaper he's at least missing the Lakers' three-game trip this week, including stops in Houston (Tuesday), New Orleans (Wednesday) and Oklahoma City (Friday). Meanwhile, the Lakers have said Blake will stay out for at least another week. So the workload will still continue.
"I'm 34 years old and I'm handling screen and rolls out there without the Steves," said Bryant, who scored 34 points on 12 of 27 shooting in 38 minutes against Orlando. "My ass is running up and down the court more than I ever have my entire career. But you have to adjust to it. I practice and work on my ball handling. When you have the talent to adjust to it, you have to adjust to it."
Gasol has averaged a career-low 12.7 points on 42.3 percent shooting, a product of an inconsistent mid-range jumper, sporadic defensive intensity and the system under coach Mike D'Antoni taking the Lakers forward away from the low post.
Although D'Antoni has publicly touted Gasol's versatility, he has also questioned his conditioning his low-post opportunities won't come as often. Gasol also sat the entire fourth quarter in the Lakers' loss last week to Memphis partly to accommodate Antawn Jamison's surprise emergence. Gasol appeared relatively more aggressive against Orlando, but the struggles still persisted.
"I want to connect with Mike, I want to connect with everything we're doing. I want to be out there, I want to help the team. I can't help the team sitting on the bench," Gasol said. "It's upsetting for me as a player (to be on the bench) but I don't allow it to irritate me. We're all trying to do our best and find ways to win the game. Coach makes his decisions and you have to respect them."
D'Antoni expressed concerns over losing Gasol, who has faced a reduced role and persistent trade rumnors for the past two seasons.
"I'm not going to lose him," Bryant said. "It's just not going to happen. I've been around him long enough. I know how to do it.
What does he see that makes him think that?
"I know him"
Bryant has won two NBA championships with Gasol ever since the Lakers acquired him Feb. 2008 in a trade from the Memphis Grizzlies. Since then, Bryant has mixed between prodding Gasol to play more aggressively, while supporting his need for the Lakers to feature him more.
"Pau will have to make some adjustments to his game. He's not posting up as much as he likes. But he has to adjust," Bryant said. "Pau's talented enough and good enough to do it. It's not like he can't do a myriad of things. It's about making that adjustment."