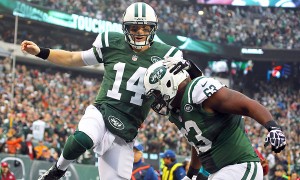 The New York Jets needed someone to save the game, and possibly their season.
Tim Tebow was unavailable, so Rex Ryan turned to third-stringer Greg McElroy, who stepped in for a struggling Mark Sanchez and energized the Jets and their fans.
McElroy threw a touchdown pass to cap his first NFL drive early in the fourth quarter, leading New York to an ugly 7-6 victory Sunday and sending the Arizona Cardinals to their eighth straight loss.
BOX SCORE : Jets 7, Cardinals 6
"It's just something that I sensed, that I felt," Ryan said. "When you're around this game long enough, you get that feeling that, 'You know what? I've seen enough, and it's time to make that change."
With Tebow inactive as he heals from two broken ribs and the Jets needing to win their last five games to even have a chance of making the playoffs, Ryan pulled Sanchez for McElroy late in the third quarter — as the crowd at MetLife Stadium cheered wildly.
McElroy then led the Jets (5-7) to their only points of the day with an impressive 10-play drive, rolling to his right on a bootleg and tossing a 1-yard pass to a wide-open Jeff Cumberland in the end zone 5 seconds into the fourth quarter.
"I'm really happy for the team, and really happy for Greg," Sanchez said. "He came in and played his butt off."
Fans chanted "Mc-El-Roy!" throughout the first three quarters as Sanchez went 10 of 21 for 97 yards and three interceptions, including two by former Jets safety Kerry Rhodes.
"It's tough to kind of gauge the energy," McElroy said, smiling. "Obviously, I didn't have, like, a decibel meter where I could tell what the crowd noise was, but I was excited about getting a shot to get in there."
Notes: New York's Nick Folk hit the left upright on a 46-yard field-goal attempt and dinged a 52-yarder off the right upright. … The Jets, ranked 30th against the run, held the Cardinals to 67 yards rushing, 40 coming on Johnson's fake punt. … Shonn Greene quietly had his second 100-yard rushing game of the season, 104 on 24 carries. … Cardinals WR Larry Fitzgerald was held to one catch for 23 yards.