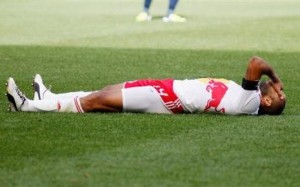 Thierry Henry is not the number one of the MLS. The Frenchman has been overwhelmed by Chris Wondolowski (29 years old).
The American international striker who also ended as the best scorer of the championship with the San José Earthquakes (27 realizations) has also obtained more votes than the captain of the New York Red Bulls (259, 03 marks against 14, 49) in the vote made by local media, clubs and players.
Chris Wondolowski succeeded the Canadian Dwayne De Rosario.
The midfielder of Sporting Kansas City, Graham Zusi ended as the third of the vote.