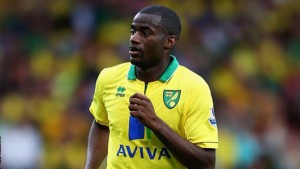 If Norwich is still on the series of 8 matches without failure in the Premier League, the performances of Sebastien Bassong of Cameroon have contributed a lot.
After his first goal of the season last week-end, the defender has rehearsed that this Sunday against Sunderland (2-1).
Bassong is the one who opened the score at the 8th minute by receiving a free kick.
Before the half –time, his teammate, Pilkington aggravated the score and gave the advantage to the Canaries. The reduction of the score by Sunderland at the second half-time did not change anything. Despite the firework of Stephan Sességnon of Benin, the Black Cats bowed.
Norwich where the Norwegian native of Ghana, Alexander Tettey is evolving is now the 12th in classing of the Premier League.